Bargoed's Big Idea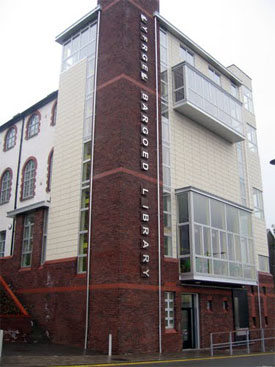 Bargoed is the largest
shopping centre in the Upper Rhymney Valley and the Greater Bargoed Community Regeneration Project is a multi million pound scheme to transform the town and drive economic growth. The first phase of this scheme has already been completed with a key element being the £25 million new road, Angel Way.
Bargoed's Big Idea continues with the transformation of the Grade 2* Listed Hanbury Chapel into a modern library and community hub. This century old Chapel has much of the original detailing intact and is a well preserved landmark building in the heart of the town centre.
This historic building has been completely refurbished to allow people from Bargoed and the wider community to access a range of council services under one roof. New worship space has been provided in a dedicated hall and a striking new extension has been built at the rear of the building to house a new Public Library, café and other community facilities including the Family History Resources centre.
The new Bargoed Customer First centre is included in the Library and we were delighted to incorporate a Smartsoft Queue Management system in the Customer Service waiting area which is fitted out with two large screens and contemporary seating. The screens display Smartmonitor data and call Customers for service using English and Welsh speech.
This is the fifth Caerphilly Customer First Centre
using Smartsoft software, giving Customer Service managers the ability to view multiple sites and display real-time reports via the Local Area Network.