Blaenau Gwent's Stylish System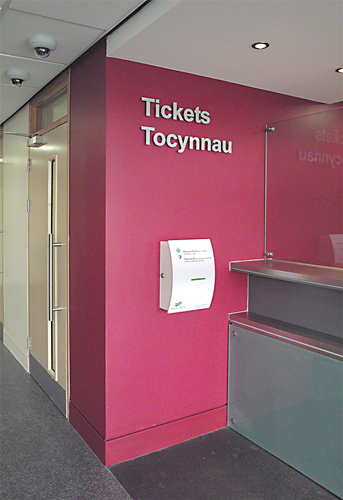 Blaenau Gwent is the smallest
Welsh Authority with a population of over 68,000 some 14% of whom speak Welsh.
The Civic Centre in Ebbw Vale was in the process of extensive refurbishment when we were approached by the Divisional Revenues and Benefits Manager to design a Queue Management System for the new Customer Service facility.
Firstly, we installed our new CXL-TPS Super wall mounted ticket printer to print the Queue Management tickets generated by Smartprinter. The housing for the CXL-TPS was customised with the stylish Blaenau Gwent Council logo and with Customer instructions in Welsh and English.
The Reception desk was provided with Smartkey, our Web-based Virtual key pad and a POS desktop printer to print Queue Management tickets for Customers who prefer to talk to a Receptionist. Our Web-based Virtual key pad Smartkey was also installed at each of the four private interview booths and four private interview rooms. We then installed Smartstatus, our Web-based Status page, so that key staff members can monitor the system.
In addition, we supplied a 32" Professional LCD screen and a 47" Professional LCD screen
to display Customer information and call Customers for service in Welsh and English. The displays were programmed using Smartmonitor to co-ordinate with the rich colour palette chosen to decorate the Customer Service area - creating a stylish, functional approach to Queue Management.