Cardiff's New Blue DigiQ®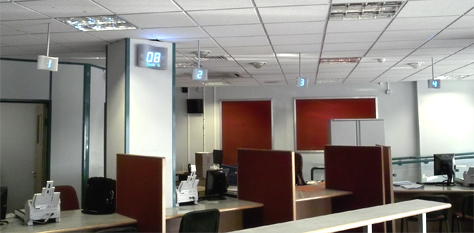 In March 2008 we were delighted to upgrade our System 8 Queue Management System
at Marland House, Cardiff with our cutting-edge Smartsoft software modules. One improvement we made was to suggest installing a TFT over the Fast-track counter and running a Head-of-Queue mode to call these Customers forward. At busy times, the TFT could be quickly set up by staff using the drop-down menus in Smartmonitor to direct Customers to an additional counter. Within days, Benefits staff decided that they often needed two Fast-track counters to cope with all their Customer enquiries.
This Summer, the Cardiff Benefits team decided to open a new First Stop Enquiry Centre on the ground floor of Marland House. The aim was to serve all their Fast-track Customers in a dedicated area.
We decided to use our new DigiQ® Ultra Blue display as the Customer display, with the moving message matching the spoken message in both English and Welsh. We also installed 6 DigiQ Ultra Blue Counter displays to show the Counter Numbers. Each Counter position also had Smartkey, our Virtual Keypad and the new Reception desk was fitted with a POS desk printer. This enabled staff to issue tickets, so that Enquiry Centre Customers no longer needed to wait in line for service.
Our new DigiQ® is a most powerful and versatile Queue Management System and can provide a small office with a complete solution or can be used to complement our Smartsoft software modules for an integrated Web-based system, as illustrated above.