Cardiff's Housing Options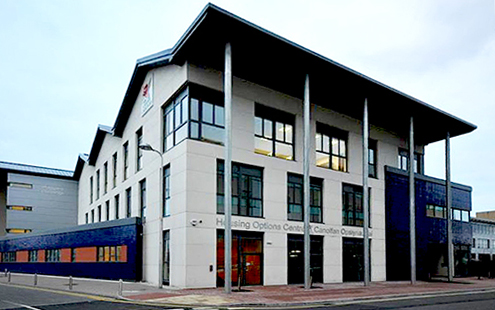 A new era for the provison
of homeless services in Cardiff has arrived with the opening of the state-of-the-art Single Assessment Centre on Tresillian Terrace. Funded by Cardiff Council, the Welsh Government, Hafod Housing Association, Huggard and the Big Lottery, the new £9.4M Centre provides a partnership approach to tackling homelessness.
The Single Assessment Centre offers homeless people first-class facilities including two hostels, a day centre, training facilities and includes the Council's Housing Options Centre, giving care and support for those who are vulnerable within our community. The Housing Options Centre provides information, advice and assistance for people needing help with housing issues and we were delighted to design a Queue Management solution to complement the new Centre.
We decided to use two DigiQ® Ultra Blue displays as the Customer displays, with moving messages and spoken messages in both English and Welsh. The Reception desk was fitted with a Smartkey key pad and a POS desk printer to enable staff to issue tickets.
We also installed Smartkey virtual Web based key pads at the three Counter positions and the nine Interview Rooms to record every Customer enquiry. Housing Options staff and their Customers can now enjoy the benefits of their Smartsoft Queue Management system and continue to lead the way in providing cutting edge assessment and advice.