Cardiff Central Library Hub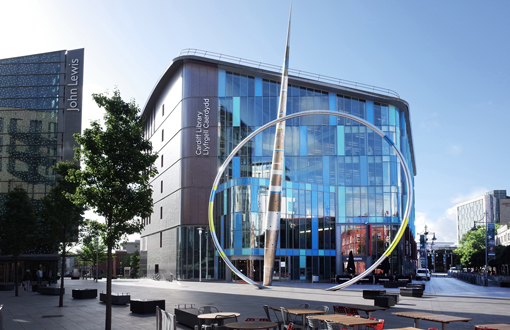 Cardiff Central Library
opened in 2009 as part of the £675M St David's 2 development. Occupying 55,000 sq ft of space over 6 floors, it has been designed to be energy efficient, with an insulating sedum grass roof, coloured glass panels and solar shading.
It was decided to redesign the entire 2nd floor to create the Central Library Hub(Yr Hyb). This would provide residents with a comprehensive range of Council and associated services in Central Cardiff. The services include Council Enquiries, The Money Advice Team, Cardiff and Vale Credit Union and Citizens Advice Bureau.
Four POS printers were installed at the new Reception area, so staff could direct Customers to their appropriate waiting area. Smartkey virtual Web based key pads were added at each Counter and Reception Desk. The waiting areas were fitted with four large Smart LCD screens, each displaying unique Web Pages to direct Customers to their respective Counters. .
Cardiff has 8 branch libraries that have also been upgraded to become Advice Hubs and further new sites are planned. These Hubs will provide a good range of services within their local communities, allowing Customers to access services more conveniently.