Mid Devon's Phoenix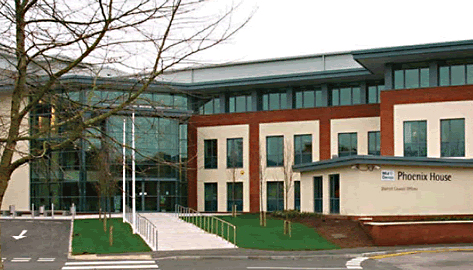 Phoenix House in Tiverton
is home to Mid Devon District Council who serve a population of over 75,000. In July 2008 we were invited to visit and plan how a Queue Management system could be implemented in the Customer First Reception area to improve Customer Flow and satisfaction. Building work had already been scheduled to provide a new seating area for Customers whilst they waited and four new service desks with improved access were added to allow Customers to discuss enquiries in private.
In order to assist Customer First staff and their Customers whilst the restructuring work was going on, we suggested installing our Smartsoft Queue Management System in stages. Firstly, we provided the Reception desk with Smartkey, our Web-based Virtual key pad and a POS desk printer to print the tickets. Smartkey was also installed at the four new service desks.
When the waiting area was completed, we returned and installed a 32" Professional LCD screen and we combined this with Smartmonitor to call the customers for service. In this way, Ctronix has provided a smooth transition from design concept to Queue Management completion.