Pontlottyn links in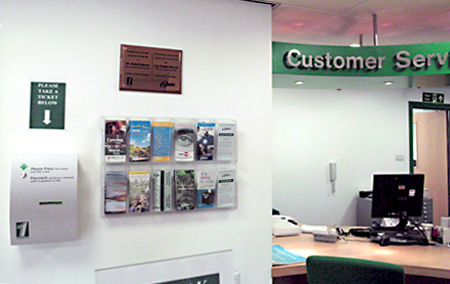 Our next Smartsoft installation
took us to the Customer First Centre in Pontlottyn which is situated in the former Area Housing office in the heart of the village. This busy office has a cash office facility and two Counter positions giving Benefits advice for the local community.
With Penallta and Blackwood Customer First centres using our software modules, Caerphilly Council asked us to also provide their Pontlottyn office with our Smartsoft Queue Management system and link each site using their Local Area Network.
We installed our new CXL-TPS Super wall mounted ticket printer to print the Queue Management tickets generated by Smartprinter. The housing for the CXL-TPS was customised with the Caerphilly Customer First logo and with Customer instructions in Welsh and English. Our Web-based Virtual key pad Smartkey was used by the advisors at the two Counter positions. We also installed Smartstatus, our Web-based Status page, so that the Customer First manager could monitor the systems and view online reports for Penallta, Blackwood and Pontlottyn simultaneously via the Network.